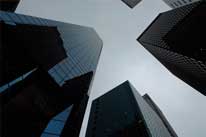 2009-2010 Training Schedule
Learn Microsoft Dynamics and position yourself for top paying jobs as we go into the future. Microsoft Dynamics AX consultants average between $75.00 to $150.00 per hour.
A recent Gartner Report - Microsoft Dynamics AX has been positioned in the Leaders quadrant of the Gartner Inc. Magic Quadrant for Midmarket and Tier-2 Oriented ERP for Product-Centric Companies, a research report that evaluates global enterprise resource planning (ERP) products and that is specifically tailored for product-centric, midmarket companies with 100 to 1,000 employees.
Classes being offered:
Microsoft Dynamics AX 2009 –( Finance, Trade and Logistics, Projects, Production)
Microsoft Dynamics CRM – Standalone, integrated into Outlook or Online
SharePoint Classes
All classes are delivered by Microsoft Certified consultants with hands on experience in the relevant area and university teaching experience. Upon completion of the coursework you will be able to sit for the relevant certification exam and become certified yourself. All classes are offered at our offices or on-line. We may even offer you a position on one of our in-house projects!
2009 to 2010 Education Schedule:
| | | | | |
| --- | --- | --- | --- | --- |
| Date | Location | Description | Days | Cost |
| Oct. 5, 2009 | Fair Oaks, CA | Introduction to Microsoft Dynamics AX 2009 | 2 | $600.00 |
| Oct. 7, 2009 | Fair Oaks, CA | Introduction Financials Microsoft Dynamics AX 2009 | 3 | $900.00 |
| Oct. 12, 2009 | Fair Oaks, CA | Advanced Financials Microsoft Dynamics AX 2009 | 5 | $1,400.00 |
| Nov. 2, 2009 | Ft. Lauderdale, FL | Introduction to Microsoft Dynamics AX 2009 | 2 | $600.00 |
| Nov. 4, 2009 | Ft. Lauderdale, FL | Introduction Trade and Logistics to Microsoft Dynamics AX 2009 | 3 | $900.00 |
| Nov. 9, 2009 | Ft. Lauderdale, FL | Advance Trade and Logistics Microsoft Dynamics AX 2009 | 5 | $1,400.00 |
| Dec. 7, 2009 | Fair Oaks, CA | Introduction to Microsoft Dynamics AX 2009 | 2 | $600.00 |
| Dec. 9, 2009 | Fair Oaks, CA | Introduction to Projects Microsoft Dynamics AX 2009 | 3 | $900.00 |
| Dec. 14, 2009 | Fair Oaks, CA | Advance to Projects Microsoft Dynamics AX 2009 | 5 | $1,400.00 |
| Jan. 11,2009 | Ft Lauderdale, FL | Introduction to Microsoft Dynamics AX 2009 | 2 | $600.00 |
| Jan.13, 2009 | Ft Lauderdale, FL | Introduction to Production for Microsoft Dynamics AX 2009 | 3 | $900.00 |
| Jan. 18, 2009 | Ft Lauderdale, FL | Advance Production for Microsoft Dynamics AX 2009 | 5 | $1,400.00 |