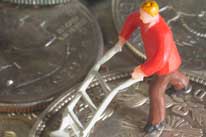 Dynamics AX Financial Management Product Modules
Accounts Payable
Accounts Receivable
Cost Accounting
Fixed Asset Accounting
General Ledger
Financials
Having the right financial foundation for your organization is key when you need to account for every penny that comes in or goes out-in every currency, in every country. MBS Dynamics AX Financial Management can help you respond more quickly to your changing environment, streamline your financial operations, and improve the accuracy of your financial reporting.
Features and Benefits
Flexible. Changes, including reorganizations, new distribution centers, and new product lines, can be folded into your existing financial operations, without compromising the integrity of historical data.
Pre-integrated. All of our financial and accounting solutions link seamlessly with all other Dynamics AX solutions.
Collaborative capabilities and built-in interoperability. You can easily extend your business processes to interact with your business partners.