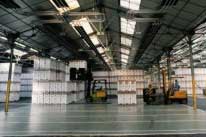 RFID
Barcode Solutions
Barcode Labels
RF Solutions
Warehouse Management Systems (WMS)
Teaming up with our partners we can deliver the solutions you need to stay one step above the competition. RFID is one of the next big things that all retailers will require. Don't take the risk of losing a share in the market by letting it pass you by.
Automated Warehouse Management System (WMS) products utilizing bar code scanning and radio frequency (RF) technology will provide your warehouse operations with automated, real-time location and tracking of all warehouse inventories, from raw materials to finished goods. This real time capability will provide key business units, such as Accounting, Sales, Customer Service, Purchasing, and Manufacturing with accurate information that allows for informed decision making for maximum utilization of existing resources.
We have resources to the leading developers and partners in the RF and barcode industry.
We have solutions for most third party (3PL) logistics; including storage, shipping, receiving, and break bulk & repack..