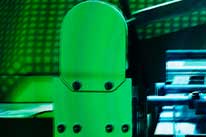 Print & Packaging
Print and packaging manufacturers must balance the need to quickly produce quality products using expensive, eco-friendly raw materials demanded by consumers and still turn a profit. Axtin's Print & Packaging can help you uncover ways to reduce operating costs, improve supply chain efficiencies, reduce inventory and shorten cycle times.
Support for Offset, Flexo Displays and Packaging, Corrugated and Labels
Axtin's Print & Packaging Solution includes specific features that support the unique requirements of different types of printing and packaging manufacturers. Functionality includes: fast estimates for simple to complex multi-piece displays; pricing that is determined by absolute or relative contribution margins and supports "profit per print hour"; quotations and confirmations that support an unlimited number of print runs and variants; tools management for complete lifecycle control of plates, cutters, cylinders, etc,; prepress and product development workflows; sales orders that can contain multiple production costs and incorporate dispatch notes and invoices; and production orders that are automatically generated and include all necessary work steps, eliminating the need to create a separate Bill of Materials (BOM).
Streamline Production Operations to Meet Actual Demand
Axtin's Print & Packaging Solution helps determine the best production plans given capacity options and customer demand. Not only can it help control and optimize your operations, Axtin provides the visibility you need to better understand the relationships among orders, production, inventory and distribution. You can expect to increase margins from improved utilization of plants and assets, improved customer service and fewer lost sales; reduce costs by lowering operating and raw material expenses; and cut inventories by reducing unnecessary raw materials and finished products.
Reduce Inventories and Improve Customer Service
Like all industries, pulp and paper manufacturers must balance operational activities against customer service levels in the name of profit. Axtin's Print & Packaging Solution reduces inventories without compromising delivery performance by accurately depicting real-time inventory levels so you can adjust forecasts and inventory restocking points to ensure adequate supplies. You can also use the solution to prioritize accounts to support different customer service levels and generate production plans that minimize the impact of set up and changeovers.