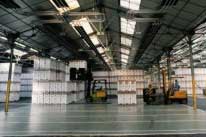 Field Service and Preventative Maintenance
The field service and preventative maintenance package allows organizations to efficiently monitor and schedule all types of work orders required for repairing customer units, both out in the field and in-house. It is designed for any type of organization that deals with warranty or service contracts, ad hoc service or repair, or has preventative maintenance needs within their own facility. This module ensures efficient customer support, as well as the management of all data surrounding that support.
One of the key features is the use of object management, allowing all service performed on previously sold items to be tracked, without having to input/maintain them in the inventory management system.
Benefits for field service organizations include:
Graphical planning of resources for service performed through the use of forecasting, dispatching and capacity planning
Registration of spare parts consumption for tracking all parts that have been used on and serialized unit, or object.
Tracking of the physical location of each object sold to a customer or distributor
Quotations of expected work, which can then be converted into an actual sales order
Integration with the CRM and Sales packages of Dynamics AX, so that all units sold units are automatically entered into the Field Service module
Warranty control, which automatically tracks all warranty obligations towards customers. Warranty is tracked in three areas: hours, costs, and spare parts. Compensation percentages are available to enable costs beyond warranty coverage to be automatically invoiced.
Integration with the Shop Floor Control module of Dynamics AX, enabling registration of time against service orders in the same manner as regular production orders.
Integration with the Inventory module of Dynamics AX, allowing picking and consumption of inventoried items required to complete service orders.
Integration with the Planning and Purchasing module of Dynamics AX, allowing all demand for service orders to be managed through the MPS planning of requirements, and subsequent purchasing of any spare parts required.
Statistics on all work orders are archived automatically, allowing reporting against warrantied and non-warrantied model and product types, serial numbers, and types and locations of errors.
Integration with the Accounting and Projects modules of Dynamics AX, allowing automatic invoicing and journal reporting
Reduction in paperwork
On-line access for key information, historical customer equipment data, as well as service reporting.
Benefits for preventative maintenance organizations include:
Graphical planning of resources for preventative maintenance required in each facility through the use of forecasting, dispatching and capacity planning
Integration with the Production and Planning modules of Dynamics AX, to ensure optimal production and delivery performance, while maintaining equipment for peak performance
Integration with the Projects and Finance modules for cost projections and asset depreciation
Integration with the Inventory module of Dynamics AX, allowing picking and consumption of inventoried items required to complete preventative maintenance orders.
Integration with the Shop Floor Control module of Dynamics AX, enabling registration of time against maintenance work orders in the same manner as regular production orders. This also allows for calculation of when preventative maintenance should occur, based on production run against a particular asset.
Integration with the Planning and Purchasing module of Dynamics AX, allowing all demand for maintenance orders to be managed through the MPS planning of requirements, and subsequent purchasing of any spare parts required.
Archiving of historical data on each piece of equipment, with scheduling of mandatory service checks