BPOS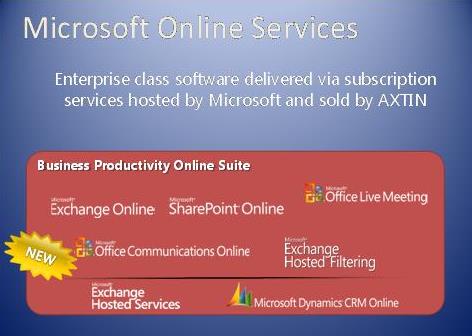 Microsoft Online Services offered by AXTIN are online applications designed especially for the needs of business customers. These services are backed by strong service-level agreements made possible by Microsoft's investing $2.3 billion in data centers to support these services. They make it easier for you to rapidly and cost-effectively access the most up-to-date technologies, and are fully integrated and designed for rapid deployment to provide you with streamlined communications, simplified management, and business-class reliability and security. The services, which can be purchased individually or in a suite called the Microsoft Business Productivity Online Suite, include the following:
Microsoft Exchange Online is a hosted enterprise messaging solution based on Microsoft Exchange Server 2007 that gives organizations the anywhere access employees want and the operational efficiency the IT staff needs. Companies benefit from management by Microsoft experts, the application of best practices developed with customers and partners, and the lessons learned from Microsoft's own corporate messaging infrastructure. The directory synchronization tool enable customers to keep local and online active directories consistent, deploy services to new users, and support seamless interaction among users regardless of whether their mailboxes are hosted by Exchange Online or on-premises Exchange servers.
Microsoft Office SharePoint Online provides a single, integrated location where employees can efficiently collaborate with team members, find organizational resources, search sites, manage content and workflow, and leverage business insight to make better-informed decisions. Based on Microsoft Office SharePoint Server 2007, this solution enables employees to easily create and manage custom team and project-focused sites for effective collaboration, including document sharing.
Microsoft Office Communications Online enables people to communicate with their colleagues across locations and time zones, using a range of communication types, including instant messaging (text) enabled by presence. Integration with the Microsoft Office system including Microsoft Office Word®, Microsoft Office Excel®, Microsoft Office PowerPoint®, Microsoft Office OneNote®, Microsoft Office Groove®, and Office SharePoint Server® enables people to see the availability of colleagues and partners through presence enabled applications and to connect with one another as a part of the every-day workflow through a consistent experience.
Microsoft Office Live Meeting is a hosted Web conferencing service that connects and engages audiences in online meetings, training, and events through a reliable, enterprise-class hosted service. Office Live Meeting brings together multiple communication channels, including live and recorded video, chat, slide and application sharing, Voice over Internet Protocol (VoIP) and audio, and audience feedback tools.
Microsoft Exchange Hosted Services includes four distinct services that provide enterprise-class reliability for messaging security and management, actively supporting the security, compliance, and availability of electronic communications. These services are delivered across a high-availability global network of tier-one data centers and backed by a comprehensive set of service level agreements. To date, customers have subscribed to these services managed by Microsoft to protect their on-premise email environments by offloading key administrator activities to a trusted service and freeing IT resources to focus on other IT initiatives. Microsoft Exchange Hosted Filtering, one of the four services, is included in the core Microsoft Online Services offering and provides anti-spam and virus protection.
Microsoft Online services work with each other and with other Microsoft Office products to provide information workers with the tools and information they need when they need it, in the context of their daily activities. For example, when using Microsoft Office SharePoint Online, employees can share documents as well as contacts, calendars, and tasks from Microsoft Office Outlook
How much is this going to cost?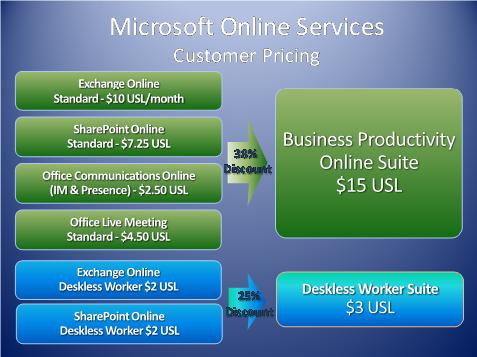 Minimum 5 user licenses.
Ready to go?
AXTIN will walk you through the purchase process, setup the suite, help with email migration, and train you and your employees on the use of Outlook, SharePoint, Office Communicator and Office Live Meeting.